Find your 4.6 Liter engine
Flat Rate Shipping (Commercial address)
Up to 5 Years Unlimited Mile Warranty
Excellent Customer Support
Pontiac Buick Cadillac 4.6-gm-cadillac-buick-pontiac Engines Variations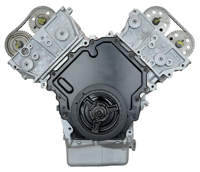 Best Price Guarantee
We will match or beat any
competitor's pricing.
ABOUT REMAN ENGINE
4.6 Liter Engines: Although it came in at just over 4.6-liters, this engine is much more commonly known as the Chevy 283 engine or the General Motors Northstar engine. The Chevrolet 283 engine was for sale in many different GM vehicles and came in a wide range of horsepower levels. The 283, depending on if it had a single carburetor, twin carburetors, or fuel injection made anywhere from 188 hp to an impressive 283 hp. Chevrolet started production of the 283 engine in 1957 and kept it in production for over a decade. The Northstar V8 engine was a newer design V8 small block engine.
283 CID - This Chevrolet 4.6-liter engine (more commonly known as the Chevrolet 283 engine) was first manufactured in 1957 and continued production through 1967. The Chevrolet 283 engine was rated anywhere from 188-283 hp and was used in many of General Motors different automotive branches and models.
L37 Northstar - This 4.6-liter Northstar engine was used primarily in transverse applications like in the 1993 Cadillac Allante, 1993-2002 Cadillac Eldorado, 1993-2004 Cadillac Seville, 1996-2005 Cadillac Deville, 2006-2011 Cadillac DTS, and the 2008-2011 Buick Lucerne The L37 featured the highest compression ratio of any Northstar that was built with a compression of 10.3:1 and horsepower ratings from 290-300 hp.
LD8 Northstar - This Northstar engine is also a transverse setup and has a lower compression ratio than the L37 of 10.0:1. These Northstar V8 engines are for sale in the 1994-2002 Cadillac Eldorado, 1993-2004 Cadillac Seville, 1994-2005 Cadillac Deville, 2006-2011 Cadillac DTS, 2004-2005 Pontiac Bonneville GXP, and the 2006-2007 Buick Lucerne. This Northstar engine produced 275 hp.
LH2 Northstar - The LH2 Northstar engine was utilized for transverse and longitudinal applications and was the most powerful out of all the 4.6-liter V8 Northstar engines producing 315 hp. This engine used variable valve timing on the exhaust and intake sides and it can be found used as a 2004-2009 Cadillac SRX engine, 2004-2009 Cadillac XLR engine, and a 2005-2010 Cadillac STS
Speak With A Specialist Now
Habla con un especialista ahora
Use The Search Tool
Verify options in the form for a quick search