Find your 4.6 Liter engine
Flat Rate Shipping (Commercial address)
Up to 5 Years Unlimited Mile Warranty
Excellent Customer Support
Ford Lincoln Mercury 4.6-liter-ford-mercury-lincoln Engines Variations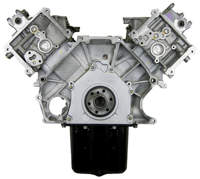 Best Price Guarantee
We will match or beat any
competitor's pricing.
ABOUT REMAN ENGINE
4.6-Liter Engines: The Ford 4.6-liter V8 engine is the first in the Modular overhead camshaft family. It was first introduced in 1991. This eight-cylinder engine has anywhere from 2 to 4 valves per cylinder depending on the year of production. The manufacturing of the Ford 4.6 V8 engine stopped in 2014.
2V SOHC 4.6 - This Ford 4.6 V8 engine for sale has a single camshaft and individual intake and exhaust camshafts. The 2 valve design first appeared in 1991 and ended completely in all models by 2012 so needless to say this engine was around for a while. The 2-valve per-cylinder version of the 4.6 V8 appeared in the Ford Crown Victoria from 1992-2012, Ford Thunderbird from 1994-1997, Ford F-150 from 1997-2010, Ford E-150 Van from 1997-2014, Ford Explorer from 2002-2005, Ford Expedition from 1997-2004, Ford Mustang GT from 1996-2004, Lincoln Town Car from 1994-2011, Mercury Grand Marquis from 1992-2012, Mercury Cougar from 1994-1997, and the Mercury Mountaineer from 2002-2005. During all that time Ford introduced EEC-V as well as an improved cylinder head design in some years. This version of the Ford 4.6 engine was rated anywhere from 190-265 horsepower by the factory.


3V DOHC 4.6 - This version of the 4.6 V8 Ford engine came equipped with 3 valves per cylinder with a total of 24 valves for all cylinders. This engine was also equipped with variable camshaft timing (VCT) as well as an electric charge motion control valve (CMCV). Additionally, some of the 3-valve 4.6-liters came with aluminum heads. This version of the 4.6 Ford engine was for sale in the 2005-2010 Ford Mustang GT, the 2006-2010 Ford Explorer, the 2008-2010 Ford F-150, and the 2006-2010 Mercury Mountaineer. The 3-valve 4.6 Ford engine was rated anywhere from 292-315 hp during its production run.


4V DOHC 4.6 - This 4.6-liter Ford engine was the first to come equipped with dual overhead camshafts, 4 valves per cylinder totaling 32 valves for the whole engine, and had a traditional sequential multi-port fuel injection system controlled by the ECU. This was the last version of the 4.6-liter V8 engine that Ford produced and it was used for 1995-1998 Ford Thunderbird SVE engines, 1996-2004 Ford Mustang SVT Cobra engines, 2003-2004 Ford Mustang Mach 1 engines, 1993-1998 Lincoln Mark VIII engines, 1995-2002 Lincoln Continental engines, 2003-2005 Lincoln Aviator engines, and 2003-2004 Mercury Marauder engines. It should be noted that the version which appeared in the 03 and 04 Cobra models had an iron block and a supercharger installed thus it was dubbed the "terminator" engine. The Ford terminator engine produced 390 hp from the factory but the same engine produced 540 hp in the 2008-2010 Ford Shelby GT500. The non-supercharged versions produced 300 hp stock.
Speak With A Specialist Now
Habla con un especialista ahora
Use The Search Tool
Verify options in the form for a quick search