Find your 4.7 Liter engine
Flat Rate Shipping (Commercial address)
Up to 5 Years Unlimited Mile Warranty
Excellent Customer Support
Mitsubishi Jeep Dodge Chrysler 4.7-liter-chrysler-dodge-jeep-mitsubishi Engines Variations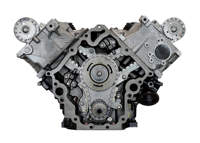 Best Price Guarantee
We will match or beat any
competitor's pricing.
ABOUT REMAN ENGINE
4.7-Liter Engines:
The first and only V8 engine to be a part of the PowerTech Chrysler engine family was the 4.7 Dodge engine (also known as the 4.7 Jeep engine). Its valve train includes a single overhead camshaft (SOHC) with a cast-iron block and aluminum heads. The Dodge 4.7 engine had a compression ratio of 9:8:1 and it utilized 2 valves per cylinder in all applications. It is to be noted that in 2008 this engine saw a major update with dual spark plugs per cylinder, upped 9.8:1 compression, a more aggressive camshaft, a larger throttle body, and a better intake manifold. It should also be noted that there was a high-output version of the 4.7-liter Chrysler / Dodge engine with the designation 4.7 HO.
4.7 Powertech - This 4.7L V8 produced by Dodge was incorporated into the 1999-2009 Jeep Grand Cherokee, 2000-2011 Dodge Dakota, 2000-2009 Dodge Durango, 2002-2013 Dodge Ram 1500, 2006-2009 Jeep Commander, 2007-2009 Chrysler Aspen, and 2006-2007 Mitsubishi Raider. This version of the Dodge 4.7 produced 235 hp and 295lb-ft of torque.


4.7 Powertech HO - The high-output version of the 4.7-liter Powertech engine had a tune increase and a few other minor tweaks which gave it a rating of 265 hp and 330lb-ft of torque. The high-output 4.7 engine was used as an option for the 2002-2004 Jeep Grand Cherokee engine, 2007-2008 Jeep Grand Cherokee engine, 2007-2008 Dodge Dakota engine, and 2007-2008 Dodge Ram 1500 engine.
Speak With A Specialist Now
Habla con un especialista ahora
Use The Search Tool
Verify options in the form for a quick search