Find your 4.7 Liter engine
Flat Rate Shipping (Commercial address)
Up to 5 Years Unlimited Mile Warranty
Excellent Customer Support
Toyota Lexus 4.7-liter-toyota-lexus Engines Variations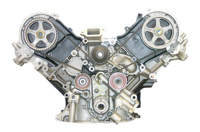 Best Price Guarantee
We will match or beat any
competitor's pricing.
ABOUT REMAN ENGINE
4.7-Liter Engines: The Toyota 4.7-liter engine that is listed under the Toyota UZ engine family. It is a gasoline fed 32-valve quad-camshaft V8 engine. The 2UZ, to increase its durability relative to its predecessors, is built for low revolution, and high torque capabilities for SUV and pickup applications. The UZ engine family came with 3 sizes with the 4.7-liter version being the largest.
2UZ-FE - This 4.7-liter V8 Toyota engine has a cast-iron block, aluminum dual overhead cam (DOHC) cylinder heads, aluminum intake manifold, 4 valves per cylinder, and MFI fuel injection. This engine configuration resulted in a V8 Toyota engine for sale with a rating of 228-271 hp from the factory. 4.7 Toyota engines were used as a 2002-2009 Lexus GX 470 engine, 1998-2007 Lexus LX 470 engine, 1998-2011 Toyota Land Cruiser engine, 2002-2009 Toyota 4runner engine, 1999-2009 Toyota Tundra engine, and finally the 2000-2009 Toyota Sequoia It should be noted that this engine received variable valve timing (VVT) as well as electronic throttle control in the 2004 model year.
Speak With A Specialist Now
Habla con un especialista ahora
Use The Search Tool
Verify options in the form for a quick search