Find your 4.8 Liter engine
Flat Rate Shipping (Commercial address)
Up to 5 Years Unlimited Mile Warranty
Excellent Customer Support
Chevrolet GMC 4.8-liter-gm-chevy-gmc Engines Variations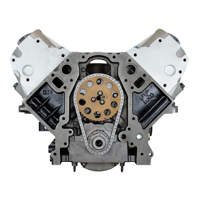 Best Price Guarantee
We will match or beat any
competitor's pricing.
ABOUT REMAN ENGINE
4.8 Liter Engines: Contrary to what you might have heard, the Chevy 4.8-liter engine hasn't always been a V8. The first ever 4.8-liter engine produced by Chevrolet was actually an inline-6 truck motor referred to as the Chevy 292. Regardless, the most common is the Chevrolet 4.8 Vortec engine which is also referred to as the 4800 Vortec V8 engine. It is known as the smallest Vortec V8 truck engine produced by GM. Common issues with the Vortec 4800 V8 engine to note are intake manifold and gasket air leaks.
292 CID Inline 6-cylinder - This was the original 292 inline-6 Chevy truck engine for sale. It was a more powerful alternative to the 250 cubic inch inline-6 Chevy engine. This engine had quite a long production life lasting from 1963 till 1988 and was mainly used as Chevrolet inline 6-cylinder truck engines as well as GMC inline 6-cylinder truck engines. The newest version of the original 292 inline-6 engine was dubbed the L25. This engine was the last version of the Chevrolet 292 inline 6-cylinder truck engines in which the last version was produced in 1988 and it was rated at 165 hp.
LR4 - First introduced in 1999, the LR4 engine produced 255 hp and was the replacement for the 5.0 L30 engine. As the engine advanced it grew in power to 285 hp by 2006. The LR4 4.8 Vortec engine was sold as a 2003-2006 Chevrolet Express engine for sale, 1999-2006 Chevrolet Silverado engine for sale, 2000-2006 Chevrolet Tahoe engine for sale, 2003-2006 GMC Savana engine for sale, 1999-2006 GMC Sierra 1500 engine for sale, and a 2000-2006 GMC Yukon engine for sale.
LY2 - The LY2 Chevrolet 4.8 engine is noted for having a cast iron block and a horsepower between 260-295 hp. This engine was featured in the 2008-2009 Chevrolet Express, 2007-2009 Chevrolet Silverado, 2007-2009 Chevrolet Tahoe, 2007-2009 GMC Sierra, 2007-2009 GMC Yukon, and the 2008-2009 GMC Savana.
L20 - This is the only 4.8 Vortec engine for sale with variable valve timing which adjusts intake and exhaust timing. However, this 4.8 Vortec engine does not come with active fuel management. This engine was found in the 2010-2017 Chevrolet Express, 2010-2013 Chevrolet Silverado, 2010-2017 GMC Savana, and the 2010-2013 GMC Sierra.
Speak With A Specialist Now
Habla con un especialista ahora
Use The Search Tool
Verify options in the form for a quick search