Find your 6.6 Liter engine
Flat Rate Shipping (Commercial address)
Up to 5 Years Unlimited Mile Warranty
Excellent Customer Support
Ford 400-cubic-inch-ford Engines Variations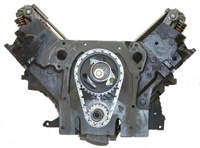 Best Price Guarantee
We will match or beat any
competitor's pricing.
ABOUT REMAN ENGINE
6.6-Liter Engines: The Ford 400 engine (6.6-liters) was a part of the 335 Ford engine family and was built to replace the 390 FE engine which was growing older and becoming harder to get to pass growing emissions regulations in the United States. This engine was later to be known as the longest stroke pushrod V8 engine ever produced by Ford Motor Company.
400 CID - The Ford 400 engine was for sale in the Ford Custom, Ford Thunderbird, Ford Torino, and Ford F-series trucks. This engine was notably based off of Ford's 351 Cleveland engine design by keeping the same connecting rod-to-stroke ratio and using the same cylinder heads. The main differences between the 351 and Ford 400 engine was that the latter used a block deck that was over an inch taller and thus had to use longer connecting rods to keep the same ratio. This engine was largely identified as a low performance and low compression engine which would make peak torque at lower RPMs and be able to mount up to the larger truck transmissions like the C6 transmissions. The development of the Ford 400 V8 engine in 1970 was a lasting one that kept it in production all the way until 1982.
Speak With A Specialist Now
Habla con un especialista ahora
Use The Search Tool
Verify options in the form for a quick search