Find your 7.4 Liter engine
Flat Rate Shipping (Commercial address)
Up to 5 Years Unlimited Mile Warranty
Excellent Customer Support
Chevrolet 454-cubic-inch-gm-chevy-gmc Engines Variations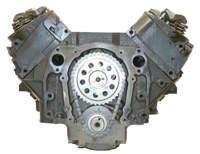 Best Price Guarantee
We will match or beat any
competitor's pricing.
ABOUT REMAN ENGINE
7.4 Liter Engines (454 CID): The Chevrolet big block 454 engine, which later became known as the Vortec 7400, began major production in the year 1970. The 454 big block Chevys found their way into many Chevrolet cars and trucks throughout the years all the way up to 2001 when they officially stopped production.
LS5, LS6, LS7 - These versions of the original Chevy 454 big block were found in production vehicles by Chevrolet between 1970 and 1976. The LS5 was rated at 390 bhp but the LS6 came equipped with a single 4-barrel Holley carburetor and nearly 450 bhp. The vehicles these original 454 big blocks were found in were the Chevrolet Caprice (1970-1976), Chevrolet Chevelle (1970-1975), Chevrolet Monte Carlo (1970-1975), Chevrolet El Camino (1970-1975), GMC Sprint (1971-1972), and Chevrolet Corvette (1970-1974).
LE8 - This Chevrolet 454 big block was found for sale in Chevy K30 trucks between 1981 to 1986.
L19 - This 454 big block Chevy was the first equipped with electronic fuel injection and was found in the 1987-1990 Chevrolet C/K trucks.
L21 - This engine was used for commercial use only and was commonly found in RV's and tow trucks.
L29 - This was a truck version of the big block 454. It was introduced into production in 1996 and stayed in production until 2000 when the 454 was discontinued. This engine saw use in the 1996-1999 Chevrolet Suburban 2500 and GMC Suburban 2500 as an option. These 454 cubic inch engines were also used as a Chevrolet Express Van ¾ and 1 ton engine.
454 Marine engine - The Chevy 454 marine engine has long been a favorite amongst avid boat enthusiasts because of its abundance of low end torque throughout the powerband. Marine 454 engines utilize corrosion resistant components to resist damage from being submerged in water and constantly being around wet environments. Additionally, 454 Marine engines come for sale with a special alternator, distributor, and starter that have screens around them to prevent any spark from igniting fuel fumes within the boat's engine compartment.
Speak With A Specialist Now
Habla con un especialista ahora
Use The Search Tool
Verify options in the form for a quick search