Find your 7.5 Liter engine
Flat Rate Shipping (Commercial address)
Up to 5 Years Unlimited Mile Warranty
Excellent Customer Support
Ford 460-cubic-inch-ford Engines Variations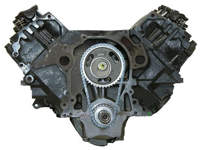 Best Price Guarantee
We will match or beat any
competitor's pricing.
ABOUT REMAN ENGINE
7.5-Liter Engines: The Ford 460 engine is by far the most produced Ford big block V8 truck engine ever produced. This engine was born in 1968 and was in production all the way up until the end of the 1990s. The 460 engine is a part of the 385 big block Ford class of engines which is also called the Lima engine class.
460 CID - The Ford 460 engine had a bore and stroke of 4.360 inches by 3.85 inches and came in multiple different chamber sizes including 75cc, 99cc, 100cc, 93cc, 95cc, 89.5cc, and 92.5cc. The 460 engine was rated anywhere from 197 hp (in 1977) all the way up to 365 hp (in 1968 before SAE net ratings) and had a compression ratio of 8.5:1 for most of its life. In 1988, the Ford 460 engine came for sale with fuel injection for the first time which drastically increased its power output and fuel economy. This 460 big block engine was found in the 1972-1976 Ford Thunderbird, 1974-1976 Mercury Cougar, 1973-1997 Ford F-series trucks (F-250, F-350, etc), and the 1975-1996 Ford E-series vans.


460 Marine engine - The 460 cubic inch Ford marine engine for sale is the marinized version for boating use of the 460 big block Ford engine. This engine has a water-cooled system, an upgraded alternator/starter to eliminate the chance of sparks within the engine compartment, and finally, the fuel system is upgraded to not allow any fuel to leak out of the engine compartment. The Ford 460 marine engine typically produces anywhere from 350-500 horsepower straight out of the crate.
Speak With A Specialist Now
Habla con un especialista ahora
Use The Search Tool
Verify options in the form for a quick search