Find your 5.0 Liter engine
Flat Rate Shipping (Commercial address)
Up to 5 Years Unlimited Mile Warranty
Excellent Customer Support
Ford 5.0-liter-ford-mercury-lincoln Engines Variations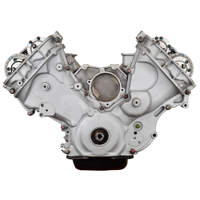 Best Price Guarantee
We will match or beat any
competitor's pricing.
ABOUT REMAN ENGINE
5.0-Liter Engines: When you think of Ford's 5.0-liter engines, depending on what you're looking for, you could be thinking about the famous Boss 302 engine, the regular production 302 engine, The high output 5.0 (302), the newer Coyote engine, or even the modular coyote engine. The Boss 302 was the first 5.0-liter engine for sale that Ford manufactured but it was the regular 302 that they put into mass production in their various cars and trucks, however, they have gone through a lot of changes over the years as we can see with the newer Coyote 5.0 engines.
Boss 302 - This engine was first manufactured in 1967 as a racing engine for Ford's GT-40. It featured forged pistons, heavy-duty connecting rods, high-flow cylinder heads, and large valves giving it a rating of between 290-310 hp. This engine was also featured in the 1969 and 1970 Boss 302 Mustangs.
302 CID - This is one of the most popular 5.0-liter V8 engines (Ford 302 V8 Engine) that Ford has ever produced. It was produced between 1968 and 1996 (28-year span). The first version of this engine was a stroked Windsor 289 engine that featured either a two-barrel or four-barrel carburetor, hydraulic valves, and lifters, as well as 9.5:1 compression that later got lowered to 9.0:1 compression for emissions regulations purposes. Over the course of its lifespan, this engine made between 120-220 hp. Beginning in 1980, the 302 Ford V8 was given throttle-body fuel injection from the factory and by 1983 it became standard on all models. This engine was also known as the 302 Windsor engine. The Ford 302 was found in the 1966-1970 Ford Fairlane, 1966-1970 Ford Falcon, 1968-1995 Ford Mustang, 1968-1974 Ford Galaxie, 1968-1997 Ford E series, 1968-1986 Ford LTD, 1969-1996 Ford LTD Crown Victoria, 1969-1991 Ford Country Squire, 1969-1974 Ford Torino, 1969-1996 Ford F-series, 1969-1996 Ford Bronco, 1971-1977 Ford Maverick, 1972-1979 Ford Ranchero, 1975-1980 Ford Granada, 1977-1993 Ford Thunderbird, 1978-1979 Ford Fairmont, 1996-2001 Ford Explorer, 1968-1969 Mercury Cyclone, 1968-1976 Mercury Montego, 1969-1991 Mercury Colony Park, 1969-1977 Mercury Comet, 1975-1980 Mercury Monarch, 1977-1993 Mercury Cougar, 1979-1986 Mercury Capri, 1983-1991 Mercury Grand Marquis, 1997-2001 Mercury Mountaineer, 1977-1980 Lincoln Versailles, 1980-1987 Lincoln Continental, 1986-1992 Lincoln Mark VII, and finally the 1981-1990 Lincoln Town Car.
302 High-Output (5.0 HO) - Born in 1982, this originally was equipped with a 2-barrel carburetor until a year later when it was given a 4-barrel carburetor. In 1985 the high-output 5.0 Ford engine received a steel cam and then in 1986 the engine finally got fitted with electronic fuel injection (EFI). There were many variants of this engine as it came in a number of different Ford models across many years. The high-output 302 Ford engine was for sale in the 1982-1985 Ford Mustang, 1984-1988 Ford Sierra, 1996-2001 Ford Explorer, 1991-1993 Ford Thunderbird, 1991-2002 Ford Falcon, 1991-2002 Ford Fairlane, 1982-1986 Mercury Capri, 1997-2001 Mercury Mountaineer, 1987-1992 Lincoln Mark VII, and the 1991-1993 Mercury Cougar.


5.0 Coyote (Gen 1) - The generation 1 5.0 Coyote engine for sale was based on the modular 4.8-liter and 5.4-liter engines that Ford was already producing. Ford Motor Company took the base block of the 4.8 engine and slightly increased the bore and stroke to get it to 5.0 liters. The engine also featured more heavy-duty internals as well as a webbing within the block casting for added strength. The compression ratio in this engine was 11.0:1 with port fuel injection. This was Ford's first V8 engine that included their cam torque actuated twin independent variable cam timing which is the staple for this engine. This engine was featured in the 2011-2014 Ford Mustang GT and the 2011-2014 Ford F-150s. The 1st gen Coyote 5.0 engine was rated at 420 hp.


5.0 Coyote (Gen 2) - Ford Coyote Gen 2 engines were produced between 2015 and 2017. They featured modified cylinder heads with larger intake and exhaust valves, larger camshafts, updated valve trains with stiffer springs, and longer/ stronger head bolts. The second generation Coyote engine showed increased horsepower numbers due to all of the changes and was rated at 435 hp. It was used as a Ford Mustang GT Coyote engine for sale and a Ford F-150 Coyote engine for sale.


5.0 Coyote (Gen 3) - The third generation Ford Coyote 5.0 engine saw by far the most changes. This version of the V8 engine got a direct injection fuel system added to (not instead of) the port fuel injection system already on the engine. It also received plasma transferred wire arc cylinder walls to enhance the strength and durability of the engine while also freeing up some extra weight. On top of all that, the intake and exhaust valves were increased in size as well as the bore diameter. After all of those changes, the gen 3 Coyote engine saw it gain another 25 hp to reach a total of 460 hp from the factory.


302 Marine engine - The marinized version of Ford's famous 3.2 engine is a highly sought-after boat engine that has seen many uses out on the water. The 302 Ford V8 marine engine has multiple modifications to it that allow it to withstand spendings most of its life in a wet environment including the block, cylinder heads, and other metal components being built with non-corrosive metals. In addition, the starter, distributor, and alternator have been modified with screens so that there is no chance of sparks getting out into the engine compartment of the boat. The fuel systems have also been upgraded to be more secure and not allow any leaks. The Ford 302 marine engine typically produces around 300 hp for boating applications.
Speak With A Specialist Now
Habla con un especialista ahora
Use The Search Tool
Verify options in the form for a quick search