Find your 5.0 Liter engine
Flat Rate Shipping (Commercial address)
Up to 5 Years Unlimited Mile Warranty
Excellent Customer Support
Jeep 5.0-liter-jeep Engines Variations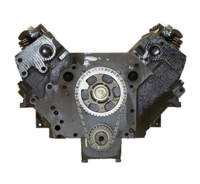 Best Price Guarantee
We will match or beat any
competitor's pricing.
ABOUT REMAN ENGINE
5.0-Liter Engines: The only 5.0-liter engine ever listed under Chrysler Motor Corporations' name was the AMC 304 engine. The Jeep 304 AMC crate engine was a 304 cubic inch V8 engine that had a "tall-deck" block and was the third generation of AMC's V8 engines. This AMC engine for sale was produced between 1970-1981 giving it over a decade-long of production run.
AMC 304 - The AMC 304 engine was rated anywhere between 120 to 210 hp depending on the year in production it was used and what model the engine was used in. Over the course of its production run the 304 AMC engine, commonly referred to as the Jeep 304 engine, became more and more airflow-restricted as emissions regulations increased over the years. When you look at the horsepower numbers over the AMC 304 V8's production run you will see clearly that the later the engine was produced the less power it was rated for. Nevertheless, this iconic engine was featured in vehicles like the Jeep Wagoneers, Jeep J-series trucks, and Jeep CJs.
Speak With A Specialist Now
Habla con un especialista ahora
Use The Search Tool
Verify options in the form for a quick search