Find your 5.2 Liter engine
Flat Rate Shipping (Commercial address)
Up to 5 Years Unlimited Mile Warranty
Excellent Customer Support
Dodge 5.2-liter-dodge Engines Variations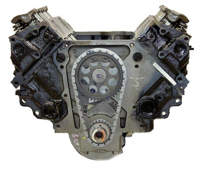 Best Price Guarantee
We will match or beat any
competitor's pricing.
ABOUT REMAN ENGINE
5.2-Liter Engines: When it comes to Chrysler Motor Corporation 5.2 V8 engine there are lots of variations and improvements over the years since this sized engine was in production for nearly 50 years. This engine goes by many names including the Dodge 318 engine, Dodge 318 motor, Magnum 318, and the Magnum 5.2 engine.
318 CID - The Dodge 318 cubic inch V8 motor was first released in 1957 as the A318 engine which remained in production until it was replaced by the LA 318 version which received much-needed updates. The LA 318 Dodge engine was used in Chrysler, Dodge, and Jeep products all the way through 1991 when it was replaced by the 5.2 Magnum engine. This engine started out with a two-barrel carburetor that was swapped over to a four-barrel carburetor in 1978 and then upgraded again to throttle-body fuel injection in 1981.


Magnum 5.2 - The Dodge Magnum 5.2-liter V8 engine was first put into production in 1992 and it stayed in production for a decade until it was replaced by the 4.7-liter V8 Powertech engine in 2002. The Dodge 5.2 engine was a 90-degree overhead valve engine with 2 valves per cylinder and a compression ratio of 9.1:1. This engine produced approximately 230 hp and 295lb-ft of torque for most of its automotive manufactured life. The Magnum 5.2 engine can be found in the 1999 Dodge Dakota, 1999-2000 Dodge Durango, 1999-2001 Dodge Ram 1500, and the 1999-2003 Dodge Ram 1500 / 2500 / 3500 Van.


318 Marine engine - The Chrysler 318 marine engine was produced in-house by Chrysler and sold to many different boat manufacturers for use in their products. These Chrysler 318 marine engines for sale included a water-cooling feature that allows the engine to cool itself with the water it is around, screens protecting the starter and alternator to prevent sparks from within the engine compartment, upgraded oil sumps for better lubrication under boating conditions, and an updated fuel system (carbureted or fuel injected) to prevent and fuel supply problems.
Speak With A Specialist Now
Habla con un especialista ahora
Use The Search Tool
Verify options in the form for a quick search