Find your 5.4 Liter engine
Flat Rate Shipping (Commercial address)
Up to 5 Years Unlimited Mile Warranty
Excellent Customer Support
Ford 5.4-liter-ford-lincoln Engines Variations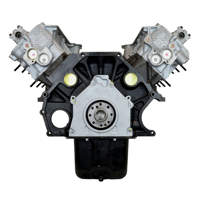 Best Price Guarantee
We will match or beat any
competitor's pricing.
ABOUT REMAN ENGINE
5.4-Liter Engines: The 5.4 Triton V8 engine belongs to the Modular family. It is a naturally aspirated eight-cylinder gasoline engine, first produced for the 1997 F150. Common problems include spark plug threads stripping and blowing spark plugs.
5.4 SOHC 2 valve - This Ford 5.4 Triton engine was the first of the bunch and was introduced into the automotive market in 1997, it had a cast iron engine block, aluminum cylinder heads, and multi-port fuel injection along with 2 valves per cylinder (hence the name). This engine is made anywhere between 235-380 hp depending on the year and model it was put into. The 2-valve 5.4 Ford engine was put into the 1997-2004 Ford F-150, 1999-2004 Ford SVT Lightning (this 5.4 was supercharged), 2002-2003 Ford F-150 Harley Davidson Edition (this 5.4 was supercharged), 1997-2004 Ford Expedition, 1997-2017 Ford E-series Vans, and the 1997-2004 Lincoln Navigator.


5.4 SOHC 3 valve - This version of the 5.4-liter V8 Triton engine had improved horsepower and torque ratings due to the addition of 3 valves per cylinder instead of 2 and variable camshaft timing (VCT). This Ford 5.4 was rated anywhere between 295-327 hp and was put into the 2002-2007 Ford Falcon, 2003-2007 Ford Fairlane, 2004-2010 Ford F-150, 2005-2014 Ford Expedition, 2005-2014 Lincoln Navigator, and the 2006-2008 Lincoln Mark LT.


5.4 DOHC 4 valve - This 5.4 V8 Triton engine had a forged steel crankshaft, dual overhead cams, and in some instances, used an aluminum block. This engine was almost strictly used as a performance 5.4 Ford engine and was found used in the 2000 Ford Mustang SVT Cobra R, 2007-2012 Ford Shelby GT500, 2004-2006 Ford GT, 2002-2010 Ford Falcon, 1999-2004 Lincoln Navigator, and the 2002 Lincoln Blackwood. This engine is made anywhere from 300-550 hp in its stock form.
Speak With A Specialist Now
Habla con un especialista ahora
Use The Search Tool
Verify options in the form for a quick search