Find your 5.5 Liter engine
Flat Rate Shipping (Commercial address)
Up to 5 Years Unlimited Mile Warranty
Excellent Customer Support
Mercedes-Benz 5.5-liter-mercedes-benz Engines Variations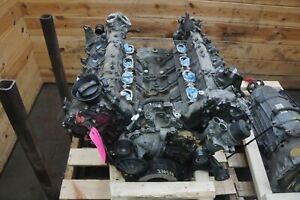 Best Price Guarantee
We will match or beat any
competitor's pricing.
ABOUT REMAN ENGINE
5.5-Liter engines: Mercedes-Benz manufactured their 5.5-liter V8 and V12 engines as a replacement for the older 5.4-liter V8 M113 class motor which stopped being put into all production vehicles except for the SLK in 2003. In the 5.5-liter V8 engine configuration, Mercedes produced 3 engines that are all similar but slightly different and labeled them in different classes: M273, M157, and M152. Inevitably, each one of these Mercedes V8 engines was given different cylinder heads but they all share the same aluminum block beside the M152 engine which was given an aluminum alloy alternative. It's important to note that there is also a 5.5-liter V12 engine that Mercedes used for over a decade in the M275 class that also has an aluminum block and cylinder head.
M275 E 55 AL - The M275 E 55 AL engine is a 5.5-liter naturally aspirated V12 engine manufactured by Mercedes-Benz for use in the 2003-2013 Mercedes S 600, 2003-2014 Mercedes CL 600, and the 2003-2011 Mercedes SL 600. This Mercedes V12 engine for sale produced somewhere between 493-510 hp from the factory. It came with an aluminum block and aluminum 3-valve per cylinder single overhead cam (SOHC) cylinder heads.
M273 E 55 - This all-aluminum 5.5-liter engine is in the 90 degrees V8 configuration and incorporates a 4-valve per cylinder dual overhead cam (DOHC) cylinder head along with sequential fuel injection. It was naturally aspirated and produced 382 horsepower at the crank. The M273 E 55 was used as a 2006-2011 Mercedes E 500 / E 550 engine, 2006-2010 Mercedes CL 500 / CL 550 engine, 2006-2010 Mercedes CLS 500 / CLS 550 engine, 2006-2012 Mercedes GL 500 / GL 550 engine, 2008-2011 Mercedes ML 500 / ML 550 engine, 2006-2009 Mercedes S 500 / S 550 engine, 2007-2012 Mercedes SL 500 / SL 550 engine, 2006-2009 Mercedes CLK 500 / CLK 550 engine, and a 2006-2015 Mercedes G 500 / G 550 engine.
M157 DE 55 AL - This twin-turbocharged 5.5-liter M157 Mercedes engine is an upgraded version of the 4.7-liter M278 high-performance engine. It's an all-aluminum engine with 4-valves per cylinder and dual overhead cam (DOHC) cylinder heads. This engine has direct fuel injection and produces anywhere from 518-577 horsepower depending upon the vehicle it's put in and the model year it was used in. The vehicles this powerhouse was used in was the 2011-2017 Mercedes S 63 AMG, 2011-2014 Mercedes CL 63 AMG, 2012-2018 Mercedes CLS 63 AMG, 2012-2015 Mercedes ML 63 AMG, 2015-2019 Mercedes GLE 63 AMG, 2012-2016 Mercedes GL 63 AMG, 2016-2019 Mercedes GLS 63 AMG, 2013-2018 Mercedes G 63 AMG, 2012-2016 Mercedes E 63 AMG, and the 2012-2019 Mercedes SL 63 AMG.
M152 - This 5.5-liter engine was only ever used in the 2012-2015 Mercedes SLK 55 AMG and was rated at 416 horsepower from the factory with a 12.6:1 compression ratio. It has an aluminum alloy block with an aluminum alloy 4-valve per cylinder dual overhead cam (DOHC) cylinder heads.
Speak With A Specialist Now
Habla con un especialista ahora
Use The Search Tool
Verify options in the form for a quick search