Find your 5.6 Liter engine
Flat Rate Shipping (Commercial address)
Up to 5 Years Unlimited Mile Warranty
Excellent Customer Support
Infiniti Nissan 5.6-liter-nissan-infinity Engines Variations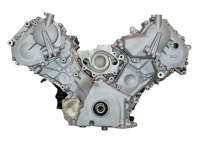 Best Price Guarantee
We will match or beat any
competitor's pricing.
ABOUT REMAN ENGINE
5.6 Liter Engines: Nissan currently uses two different 5.6-liter engines in its vehicles. These two engines are the VK56DE engine and the VK56D engine. Some common problems with these VK engines are engine overheating and unreliable timing chains which typically follow poor maintenance practices.
VK56DE Rated at approximately 317-320 hp and 385-393 lb-ft of torque, this engine came with an aluminum-alloy block, aluminum-alloy cylinder heads, continuously variable timing control system (CVTCS), and dual overhead cams (DOHC). The 5.6 Nissan engine was used as a 2004-2015 Nissan Armada engine, 2004-2015 Nissan Titan engine, 2004-2010 Infiniti QX56 engine, 2008-2012 Nissan Pathfinder engine, 2012-2016 Nissan NV2500HD engine, and a 2012-2016 Nissan NV3500HD engine.
VK56VD This version of Nissan Motor Corporation's 5.6 aluminum-alloy V8 engine features direct injection as well as a variable valve event lift system (VVEL). Its power and torque vary depending on the application, from 375 hp to 428 hp and from 387 to 471 lb-ft of torque. This 5.6 Nissan engine is used in the 2011-present Infiniti QX80, 2011-2013 Infiniti M56, 2014-2019 Infiniti Q70, 2017-present Nissan NV2500HD, 2017-present Nissan NV3500HD, 2017-present Nissan Titan, and the 2017-present Nissan Armada.
Speak With A Specialist Now
Habla con un especialista ahora
Use The Search Tool
Verify options in the form for a quick search