Find your 5.7 Liter engine
Flat Rate Shipping (Commercial address)
Up to 5 Years Unlimited Mile Warranty
Excellent Customer Support
Dodge 5.7-liter-dodge Engines Variations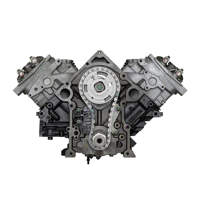 Best Price Guarantee
We will match or beat any
competitor's pricing.
ABOUT REMAN ENGINE
5.7-Liter Engines: The true 5.7-liter Hemi engine is considered to be a 3rd generation Hemi engine. The 5.7 Hemi engine was for sale in many different applications across the Chrysler, Dodge, and Jeep lineups from 2003 until the present day. The 5.7 V8 produced by Chrysler Motor Company has been used in the 2003-present Ram 1500 pickup, 2003-present Ram 2500 pickup, 2003-present Ram 3500 pickup, 2004-present Dodge Durango, 2005-2008 Dodge Magnum R/T, 2005-present Chrysler 300C and 300S, 2005-present Jeep Grand Cherokee, 2006-present Dodge Charger R/T, 2006-2010 Jeep Commander, 2007-2009 Chrysler Aspen, 2009-present Dodge Challenger R/T, and 2022-present Jeep Wagoneer. The 5.7 Hemi engine came for sale with added variable valve timing (VVT) and a Multi-Displacement System (MDS) which added horsepower gains and notably increased fuel economy both in the city and on the highway. The Dodge 5.7 crate engine was and is a 90-degree 2-valve pushrod engine just like the Magnum V8 engines that came before them. Over the course of its life the 5.7 Hemi has been rated at anywhere from 340-410 hp and had numerous slight changes identified by the engine code designations below:
EZA - This 5.7 Hemi was the first of what is known as the smallest modern HEMI engine, this engine is also commonly referred to as the eagle. This engine was the first 5.7 used in Dodge Ram, Charger, Durango, and Challenger R/T vehicles.


EZB - The 2009 model year incorporated a multi-displacement system into the 5.7-liter EZA engine and they labeled it the EZB.


EZC - The EZC 5.7 Hemi engine model was also introduced in 2009 and featured variable valve timing as its upgraded feature which added a little extra power and slightly better fuel economy.


EZD - The EZD gave drivers the best of both worlds by having a Multi-Displacement System (MDS) which shuts off select cylinders when the power isn't needed to increase gas mileage along with variable valve timing (VVT) built into this engine.


EZE - This was a revolutionary change in engine design that saw the addition of a hybrid electric vehicle (HEV) 5.7 HEMI engine.


EZF - Another breakthrough engine, the EZF was a compressed natural gas (CNG) engine designed for fleet vehicles.


EZH - One of the more modern 5.7 HEMI engines, this incorporated fuel-saver technology into the design.


EZL - This engine added eTorque technology to create a mild hybrid engine that saves on fuel economy without reducing overall power.
Speak With A Specialist Now
Habla con un especialista ahora
Use The Search Tool
Verify options in the form for a quick search