Find your 5.7 Liter engine
Flat Rate Shipping (Commercial address)
Up to 5 Years Unlimited Mile Warranty
Excellent Customer Support
Toyota 5.7-liter-toyota Engines Variations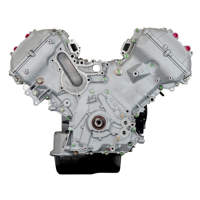 Best Price Guarantee
We will match or beat any
competitor's pricing.
ABOUT REMAN ENGINE
5.7-Liter Engines: The Toyota 5.7-liter engine represents one of the most powerful engines that Toyota ever produced, delivering 381 hp and 401 lb.-ft of torque power. Indeed, the 5.7 liter offer is the largest engine Toyota has put into a production vehicle. This engine fell in the UR Toyota engine class and is the largest engine displacement within that class of engines. Dubbed the i-Force by Toyota's PR team, the 3UR offers 32-valve heads, aluminum block construction, and comes equipped with a variable intake length manifold.
3UR-FE - This 5.7-liter Toyota engine for sale includes direct fuel injection, dual variable valve timing (VVT), a compression ratio of 10.2:1, and a horsepower rating of 381 hp with 401 lb-ft of torque. This engine was for sale as a 2007-2021 Toyota Tundra engine, 2007-present Toyota Sequoia engine, 2007-2021 Toyota Land Cruiser engine, and the 2007-present Lexus LX 570 engine.
3UR-FBE - This 5.7 Toyota engine variant is the same as the 3UR-FE except that it is E85 compatible. It was used in the 2009-2014 Toyota Tundra and the same year range Toyota Sequoia.
Speak With A Specialist Now
Habla con un especialista ahora
Use The Search Tool
Verify options in the form for a quick search