Find your 6.0 Liter engine
Flat Rate Shipping (Commercial address)
Up to 5 Years Unlimited Mile Warranty
Excellent Customer Support
Mercedes-Benz 6.0-liter-mercedes-benz Engines Variations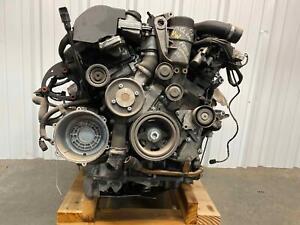 Best Price Guarantee
We will match or beat any
competitor's pricing.
ABOUT REMAN ENGINE
6.0-Liter engines: The Mercedes 6.0-liter engine signaled Mercedes-Benz's full-throttled entry into the V12 market that resulted in five separate families of engines. The company's move was in response to rival BMW's 7-Series introduced towards the end of the 1980s and powered Bavarian Motor Works' sales into the 1990s. The Mercedes engine classes created to spawn their 6.0-liter V12 engines were the M120, M275, M279, M158, and M277 series of Mercedes engines.
M120 48V - This was the first 6.0-liter V12 engine used by Mercedes-Benz in their performance production vehicles. It was rated at approximately 420 horsepower at the crank and was used in the 1992-1999 Mercedes CL 600, 1991-1998 S / SE / SEL 600, and the 1992-2001 Mercedes SL 600. It was an all-aluminum engine with 4-valve per cylinder dual overhead cam (DOHC) cylinder heads.
M275 E 60 AMG - Used as a 2004-2013 Mercedes S 65 AMG engine, 2004-2014 Mercedes CL 65 AMG engine, 2004-2011 Mercedes SL 65 AMG engine, and a 2012-2015 Mercedes G 65 AMG engine, it was easy to label it as a performance-oriented engine. The M275 E 60 AMG was a 6.0-liter 60-degree V12 twin-turbocharged engine and thus was rated at anywhere from 603-661 horsepower. It was an all-aluminum engine with 3-valve single overhead cam (SOHC) style cylinder heads.
M279 E 60 LA - The M279 AMG is the official successor to the M275 engine. It features new exhaust manifolds, port fuel injection, new turbochargers, new high-strength forged pistons, new high-flow cylinder heads, and all-new wastegate ducts. With all of the added modifications, this 6.0 Mercedes V12 engine for sale was rated at 621 horsepower in its stock form. It was used as a 2014-2019 Mercedes S 65 AMG engine, 2015-2019 Mercedes S 65 Coupe AMG engine, 2012-2019 Mercedes SL 65 AMG engine, and a 2015-2018 Mercedes G 65 AMG engine.
Speak With A Specialist Now
Habla con un especialista ahora
Use The Search Tool
Verify options in the form for a quick search