Find your 6.1 Liter engine
Flat Rate Shipping (Commercial address)
Up to 5 Years Unlimited Mile Warranty
Excellent Customer Support
Jeep Dodge Chrysler 6.1-liter-dodge-chrysler-jeep Engines Variations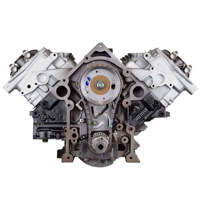 Best Price Guarantee
We will match or beat any
competitor's pricing.
ABOUT REMAN ENGINE
6.1-Liter Engines: The SRT 6.1 Hemi engine is another powerful engine in the performance engine market courtesy of Chrysler Motor Corporation. The 6.1 Hemi for sale took advantage of its liquid-cooled, 90-degree pushrod V8 engine design to generate 425 hp and 420lb-ft of torque. The 6.1 Hemi engine featured lighter pistons than the 5.7, strengthened connecting rods, a forged crankshaft, and upgraded cooling features added to the 6.1 engine block. This engine had a compression ratio of 10.3:1.
ESF - This SRT-8 HEMI engine was used in strictly performance vehicles applications for Chrysler Motor Corporation and was therefore found used in the 2005-2010 Chrysler 300C SRT-8, 2006-2008 Dodge Magnum SRT-8, 2006-2010 Dodge Charger SRT-8, 2006-2010, Jeep Grand Cherokee SRT-8, and the 2008-2010 Dodge Challenger SRT-8. The reinforced engine block, forged-steel crankshaft, and piston-cooling oil jets proved to be improvements over the 5.7-liter model and subsequently, this engine has seen a multitude of modifications within the automotive enthusiast group which can easily make more power out of the 6.1-liter Hemi engine.
Speak With A Specialist Now
Habla con un especialista ahora
Use The Search Tool
Verify options in the form for a quick search