Find your 6.2 Liter engine
Flat Rate Shipping (Commercial address)
Up to 5 Years Unlimited Mile Warranty
Excellent Customer Support
Cadillac Hummer Chevrolet GMC 6.2-liter-gm-chevy-gmc-hummer Engines Variations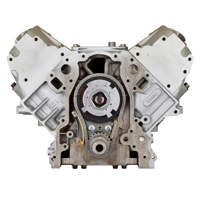 Best Price Guarantee
We will match or beat any
competitor's pricing.
ABOUT REMAN ENGINE
6.2 Liter Engines: The General Motors 6.2-liter V8 engine is also referred to as the Vortec 6200 engine or the Chevrolet 6.2 Vortec engine. These 6.2-liter engines were specifically used to replace the prior 6.0-liter LS2 engines and add more performance while maintaining decent fuel efficiency. Some common problems with the 6.2 Chevrolet engines for sale later in life include carbon build-up and lifter collapse/ bent push rods.
L92 - All aluminum pushrod engine with variable valve timing (VVT). This engine was also known as the Vortec 6200 or Vortec 6.2 engine for sale in the Chevrolet Silverado, Chevrolet Tahoe LTZ, Cadillac Escalade, GMC Yukon Denali / Yukon Denali XL, GMC Sierra Denali, and the Hummer H2. This engine was rated at an impressive 403 hp in most applications.
LS3 - Primarily a performance engine, the LS3 6.2-liter V8 engine was first introduced in the Chevrolet Corvette and later used in the Camaro SS, it produced 430 hp. This engine had a 10.7:1 compression ratio, a higher flowing intake manifold, larger injectors, and an aggressive cam from the factory. It should be noted that the LS3 engine was also used as a 2014-2017 Chevrolet SS engine.
L99 - Identical to the LS3 besides the inclusion of active fuel management and variable valve timing (VVT). This engine was used as a 2010-2015 Chevrolet Camaro SS engine.
LS9 - Needless to say, this General Motors 6.2-liter V8 engine equipped with a 2.3-liter supercharger is a monster performance version of the LS3 with supporting modifications and thus produced 638bhp. This engine had reduced compression down to 9.1:1 to cope with the additional pressure from the 2.3-liter Eaton roots style supercharger. It was featured in the 2009-2013 Chevrolet Corvette ZR1.
LSA - The LSA version of the 6.2-liter Chevrolet engine is similar to the LS9 but with a 1.9 liter supercharger instead of the 2.3 liter on the LS9. This engine also has a slightly lower compression ratio than the LS9 with a compression ratio of 9.0:1. This engine was rated at 556 hp and was seen used in the 2012 Chevrolet Camaro ZL1 as well as the 2009-2015 Cadillac CTS-V.
Speak With A Specialist Now
Habla con un especialista ahora
Use The Search Tool
Verify options in the form for a quick search