Find your 6.4 Liter engine
Flat Rate Shipping (Commercial address)
Up to 5 Years Unlimited Mile Warranty
Excellent Customer Support
Ford 6.4-liter-ford Engines Variations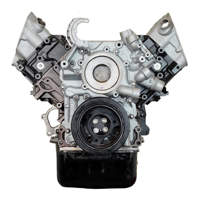 Best Price Guarantee
We will match or beat any
competitor's pricing.
ABOUT REMAN ENGINE
6.4-Liter Engines: The Ford 6.4 engine came in a couple of different configurations. The most commonly referred to 6.4 engine is the 6.4 Powerstroke diesel engine, which was introduced in 2008 as a cleaner, quieter, and more powerful diesel engine. The 6.4 Powerstroke diesel V8 for sale in the 2008-2010 F250's was the first to use factory twin turbochargers and a diesel particulate filter. The other 6.4 Ford engine configuration was in the form of a 390 cubic inch V8 gasoline engine which were used in various Ford production models between 1961 and 1975.
390 CID - The Ford 390 engine is considered to be one of the most popular engines within Ford's FE engine class. These engines produced anywhere from 201-401 hp depending on the year it was built, Ford model it was put in, and whether it was a 2-valve or 4-valve engine. The Ford 390 engine was for sale in the 1966-1969 Ford Fairlane, 1967-1969 Ford Mustang, 1961-1968 Ford Thunderbird, 1966-1975 Ford trucks, 1968-1969 Ford Torino, 1963-1966 Mercury, 1966-1967 Mercury Comet, 1967-1969 Mercury Cougar, and the 1969 Mercury Montego.


Navistar 6.4 Powerstroke Diesel - This the OHV 4-valve turbo diesel engine found in the 2008-2010 Ford F-250 Super Duty, 2008-2010 Ford F-350, and other super duties of those years that were equipped with the 6.4-liter Powerstroke engine. The Ford 6.4 Powerstroke was unlike any Powerstroke engine that came before it. This engine included compound dual variable geometry turbos (VGT) and twin high pressure oil pumps for the advanced multi-shot piezoelectric fuel injection system which increased its power ratings to 350 hp and 650lb-ft of torque in its stock form. The increase in horsepower and torque was astonishing to car enthusiasts at the time because Ford was able to increase its power while also adhering to tougher emissions standards by adding a diesel particulate filter (DPF) and an exhaust gas recirculation (EGR) cooler. Adding power while including the aforementioned emissions equipment was considered quite the feat. However, like its predecessor the 6.0 Powerstroke, this engine had multiple issues over its lifespan including: piston ring failures, EGR cooler failures, cracking of the cylinder heads with performance tuners, turbo bearing seal failures, DPF clogs, and impaction of the rocker arms hence the reason why Ford only used this engine in production for 3 model years (2008-2010).
Speak With A Specialist Now
Habla con un especialista ahora
Use The Search Tool
Verify options in the form for a quick search