Find your 6.5 Liter engine
Flat Rate Shipping (Commercial address)
Up to 5 Years Unlimited Mile Warranty
Excellent Customer Support
Hummer Chevrolet GMC 6.5-liter-gm-chevy-gmc-hummer Engines Variations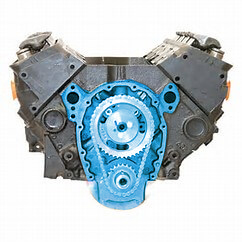 Best Price Guarantee
We will match or beat any
competitor's pricing.
ABOUT REMAN ENGINE
6.5 Liter Engines: There are 2 vastly different engines under the 6.5-liter engine size by General Motors (GM). The Chevrolet 396 big block V8 engine is technically a 6.5-liter engine which was and continues to be a classic engine. The 396 big block engine was manufactured in production vehicles from 1968-1972 Furthermore, GM produced the 6.5-liter Detroit diesel engine later on down the road in 1992 and continued production of that engine in their vehicles until 2004.
396 CID - The 396 big block Chevy engine was for sale starting in 1965 and continued to be readily available until its discontinuation in 1972. The Chevrolet 396 engine is truly a staple in American muscle car history and was used by an array of Chevrolet vehicles throughout the late 1960's and early 1970's. In some models these engines were dubbed the same, Turbo-Jet 400 engine, but most people knew these engines to be the Chevy 396 big blocks. There are 5 main versions of the 396 big block engine and those are the L34, L35, L37, L66, and L78. The L35 and L78 engines were both produced from 1965 till 1969 but the L78 was the highest performing version with a large Holly carburetor, 11.0:1 compression, forged pistons, aluminum intake manifold, and solid-lifter cam. The L78 396 engine came for sale with a massive 425 hp in some applications. The L35 engine on the other hand had 10.25:1 compression, hydraulic lifters, and 2 main bolts and only produced 325 hp. Furthermore, the L34 was very similar to the L35 while the L37 was almost an exact replica of the L78 other than hydraulic lifters, a milder cam, and 2 main bolts instead of 4. The least performing Chevrolet 396 engine was the L66 engine which had 9.0:1 compression and only produced 265 hp from the factory.
5 Detroit - In 1992 General Motors created a 6.5-liter V8 diesel engine for use in medium duty and heavy duty vehicles and named it the 6.5 Detroit diesel engine. These engines had turbocharged and non-turbocharged variants but it can be sorted out which is which by taking a closer look at the engine codes which are the L49 (VIN P), L56 (VIN S), L57 (VIN P HO), and L65 (VIN F). The L56 and L65 Detroit diesel engines were both turbocharged from the factory and were rated at approximately 215 hp with 440 lb-ft of torque. The non-turbo versions of the 6.5-liter diesel engine were rated between 160-175 hp. The Detroit Diesel engines were for sale in the 1994-1999 Chevrolet Blazer, 1994-1999 Chevrolet Tahoe, 1994-1999 GMC Yukon, 1994-1999 Chevrolet K-1500 / K-2500 / K-3500, 1994-1999 Chevrolet / GMC Suburban, 1994-2004 Hummer H1, and 1994-1995 Chevrolet and GMC Vans.
Speak With A Specialist Now
Habla con un especialista ahora
Use The Search Tool
Verify options in the form for a quick search