Find your 6.6 Liter engine
Flat Rate Shipping (Commercial address)
Up to 5 Years Unlimited Mile Warranty
Excellent Customer Support
Pontiac Buick Chevrolet Oldsmobile 6.6-liter-gm-chevy-pontiac-buick Engines Variations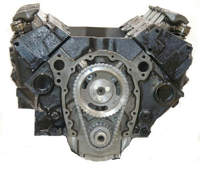 Best Price Guarantee
We will match or beat any
competitor's pricing.
ABOUT REMAN ENGINE
6.6 Liter Engines: The General Motors 6.6-liter V8 engine is referring to either Chevrolet's 6.6-liter Duramax diesel engine which is also known as the 6.6-liter duramax engine or it is referring to one of the older big block engines. Within the General Motors (GM) divisions there was a 400 cubic inch big block Chevrolet engine produced as well as a 403 cubic inch Oldsmobile big block engine.
LB7 - 32 valve engine with a high pressure common rail direct injection fuel system. This Duramax diesel engine for sale by Chevrolet in the 2001-2004 Chevrolet Silverado 2500HD and 3500HD was notorious for fuel injector problems and even had a major recall on them. Identifiable by engine code 1, the LB7 was rated at 300 hp and 520lb-ft of torque from the factory.
LLY - Has aluminum cylinder heads instead of the composite design on the LB7. It also featured better injectors and a better Garrett VGT turbo recognizable by a 2 engine code. This Duramax 6.6 engine for sale produced 310 hp and 590lb-ft of torque in the 2004-2005 Chevrolet Silverado 3500HD and 2500HD.
LBZ - Lowered compression ratio, new fuel injection system, stronger connecting rods, improved glow plugs heater, and a variable speed turbocharger were added to this Duramax diesel engine. Despite all the changes it was still rated at the same power level as before and was featured in the late 2005 to 2007 Chevrolet Silverado 2500HDHD and 3500HD along with the Chevrolet Express Van. Had a vin code of B or D depending on the year.
LMM - Has engine code "6" and includes a new EGR system, increased engine cooling capacity, and new engine control software along with a lot of increased emissions control. Despite the extra emissions control this engine still produced 365 hp and 660lb-ft of torque stock. This was the only engine option for the 2007-2010 Chevrolet Silverado 2500HD and 3500HD.
LGH - Mainly used in express vans and it includes DPF and DEF emission control modules. However, it was also used in the 2011 Chevrolet Silverado 2500HD and 3500HD. Those vehicles with the VIN code L have this engine. This Duramax diesel engine was rated at 335 hp and 685lb-ft of torque.
LML - Has improvements to the oil flow and oil pump design to improve temperature control. This Chevy Duramax diesel was in use from 2011 all the way till 2016 in the Chevrolet Silverado 2500HD and 3500HD. This was the most powerful Duramax engine yet rated at 397 hp and 765lb-ft of torque. This engine is recognizable by the VIN code 8.
L5P - Latest version of the Duramax and is by far the most powerful with 445 hp and a whopping 1050lb-ft of torque. This engine was put into production in 2017 and remains in production today.
400 CID - The 400 cubic inch small block V8 engine produced by General Motors in 1970 featured Siamese cylinders, a two-barrel or 4-barrel carburetor, and special one off connecting rods. The Chevrolet 400 engine produced anywhere from 150-180 hp and was mainly used in full-size Chevrolet trucks and GMC trucks along with the Chevrolet K-5 Blazer and GMC Jimmy. This engine was used in Chevrolet and GMC vehicles all the way up until 1982.
Oldsmobile 403 - The Oldsmobile 403 small block V8 engine was the replacement for the 455 big block V8 engine. The Oldsmobile 403 engine featured the largest bore diameter ever used in a small block V8 engine and featured what is known as Siamese cylinders. The 403 engine was for sale as a Buick Century engine, Buick Riviera engine, Buick Electra engine, Buick Estate Wagon engine, Buick LeSabre engine, Oldsmobile Cutlass engine, Oldsmobile 4-4-2 engine, Oldsmobile Vista Cruiser engine, Oldsmobile Delta 88 engine, Oldsmobile Toronado engine, Oldsmobile Custom Cruiser engine, Pontiac Bonneville engine, Pontiac Catalina Safari engine, Pontiac Trans Am engine, Pontiac Firebird Formula 6.6 engine, and Pontiac Grand Prix
Speak With A Specialist Now
Habla con un especialista ahora
Use The Search Tool
Verify options in the form for a quick search