Find your 6.7 Liter engine
Flat Rate Shipping (Commercial address)
Up to 5 Years Unlimited Mile Warranty
Excellent Customer Support
Ford 6.7-liter-ford Engines Variations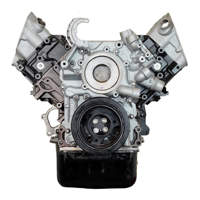 Best Price Guarantee
We will match or beat any
competitor's pricing.
ABOUT REMAN ENGINE
6.7-Liter Engines: The 6.7-liter Powerstroke engine developed by Ford Motor Company is a turbocharged diesel engine made for the Ford Super Duty. It had been named the Scorpion at first until its introduction in 2011 when Ford decided to keep the Powerstroke name alive.
6.7 Powerstroke - The 6.7 Powerstroke engine was built from scratch by Ford to be more reliable in an effort to combat years worth of diesel engine failures that occurred as a result of using Navistars diesel engines in their trucks. The specifications of the 90 degree 6.7-liter V8 diesel engine are as follows: high pressure common rail fuel injection system with a Bosch CP4 pump and piezo injectors, compacted graphite iron (CGI) block, aluminum heads, 4 valves per cylinder, and a single sequential turbocharger (SST) with a dual compressor (2011-2014). In 2015, Ford upgraded the 6.7 Powerstroke with a Garret GT37 variable geometry turbo (VGT) and larger injectors with a slightly different tune. In 2018 and 2020 the 6.7 Powerstroke underwent more tune changes and small design changes to achieve even more power. Throughout the life of this diesel motor, it used exhaust gas recirculation (EGR), a diesel particulate filter (DPF), and selective catalytic reduction (SCR) to meet all emissions requirements. Ford's 6.7 diesel engine has made anywhere from 400-475 hp and 800-1050lb-ft of torque since its birth, depending on the year and model it was in. This engine was featured in the 2011-present Ford F-250 and F-350 trucks as well as some E-series Vans like the E-250 and E-350.
Speak With A Specialist Now
Habla con un especialista ahora
Use The Search Tool
Verify options in the form for a quick search