Find your 7.3 Liter engine
Flat Rate Shipping (Commercial address)
Up to 5 Years Unlimited Mile Warranty
Excellent Customer Support
Ford 7.3-liter-ford Engines Variations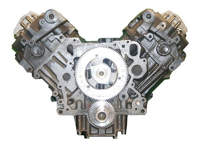 Best Price Guarantee
We will match or beat any
competitor's pricing.
ABOUT REMAN ENGINE
7.3-Liter Engines: The 7.3 Powerstroke V8 was a cornerstone for Ford Motor Company and the world for that matter when it came to diesel engines. The Ford 7.3 liter engine came in a few different configurations with an electronically controlled, direct injection version and an indirect injection version. It was offered in three-quarter-ton and higher models of the F-Series/Econoline vehicles.
7.3 IDI - The Ford 7.3 IDI engine was an updated version of the 6.9 IDI engine. It was produced by International Harvester (IDI) and featured an increased bore to give it the 7.3-liter engine size, new pistons, larger free-flowing heads, and hardened valvetrain components. This Ford 7.3 engine was naturally aspirated and produced 185 hp along with 338lb-ft of torque. The 7.3 IDI was used in Ford F-250 and F-350 trucks between 1986 and 1993.


7.3 Powerstroke (T444E) - This version of the 7.3 Ford engine is the first Ford diesel engine to receive the name of Powerstroke, i.e. 7.3 Powerstroke engine. This engine retained the same 7.3-liter engine size but made several changes. The highlights of the changes are electronic direct fuel injection, better fuel injectors, forged rods (until 2001), and most importantly a 60mm Garrett turbocharger. The T444E 7.3 Powerstroke engine produced 250-270 hp and 505-252lb-ft of torque and still received better gas mileage from the factory which was a major upgrade over the previous 7.3 IDI. 7.3 Powerstroke engines are most commonly found in 1994-2003 Ford F-250 and F-350 super-duty trucks.


7.3 Godzilla - This is a naturally aspirated V8 gasoline engine that produces 430hp with 475ft-lb of torque. The Ford 7.3 Godzilla V8 engine was a replacement for the 6.2-liter boss V8 engine and is featured in the 2020-present Ford F-series trucks.
Speak With A Specialist Now
Habla con un especialista ahora
Use The Search Tool
Verify options in the form for a quick search