Find your 2.0 Liter engine
Flat Rate Shipping (Commercial address)
Up to 5 Years Unlimited Mile Warranty
Excellent Customer Support
Pontiac Buick Chevrolet GMC 2.0-liter-gm-pontiac-buick-gmc-chevy Engines Variations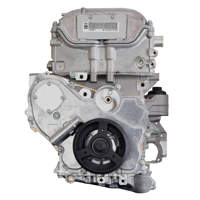 Best Price Guarantee
We will match or beat any
competitor's pricing.
ABOUT REMAN ENGINE
2.0 Liter Engines: General Motors 2.0-liter engine lineup was mostly 2.0 Chevrolet engines for sale under the name of the EcoTec family of engines. The engines came in supercharged and turbocharged versions.
LSJ - Supercharged variant of the 2.0-liter EcoTec engine. It made 205 hp from the factory with the help of an Eaton M62 supercharger and was only found in the 2005-2007 Chevrolet Cobalt SS as well as the 2004-2007 Saturn Ion Redline. The LSJ supercharged 2.0 Chevrolet engine had a compression ratio of 9.5:1.
LNF - This was a turbocharged variant and was the first spark ignition direct injection EcoTec engine. This was a 2008-2010 Chevrolet HHR SS engine, 2007-2010 Pontiac Solstice GXP engine, 2007-2010 Saturn Ion Redline engine, 2007-2010 Saturn Sky engine, and a 2008-2010 Chevrolet Cobalt SS engine. The LNF engine had a 9.2:1 compression ratio, a maximum boost of 20psi, and was rated at 260 hp.
LTG - First of the 3rd generation EcoTec engines. It featured a twin-scroll turbocharger and electronic wastegate. This engine made an impressive 252-275 hp and is found in the 2013-present Chevrolet Malibu, 2013-2019 Cadillac ATS, 2014-present Buick Regal, 2014-present Cadillac CTS, 2016-present Buick Envision, 2016-2018 Cadillac CTS, 2017-present Buick GL8, 2018-present GMC Terrain, 2016-present Chevrolet Camaro, 2018-2020 Chevrolet Equinox, and 2018-present Chevrolet Traverse.
LSY - This is the final variant of the 2.0L turbocharged Chevy engine and was the first to feature active fuel management as well as a start-stop system to the engine. As a result this 2.0 turbo engine carried with it better fuel economy than the previous EcoTec 2.0 engines for sale. The LSY engine was used in the 2019 Cadillac CT6, 2019-present Cadillac XT4, 2019-present Chevrolet Malibu XL, 2020-present Cadillac CT5, 2020-present Cadillac XT5, 2020-present Cadillac XT6, 2020-present Chevrolet Blazer, 2020-present GMC Acadia, and 2021-present Buick Envision.
Speak With A Specialist Now
Habla con un especialista ahora
Use The Search Tool
Verify options in the form for a quick search