Find your 3.5 Liter engine
Flat Rate Shipping (Commercial address)
Up to 5 Years Unlimited Mile Warranty
Excellent Customer Support
Kia Hyundai 3.5-liter-hyundia-kia Engines Variations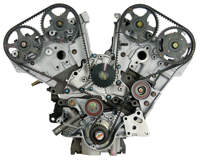 Best Price Guarantee
We will match or beat any
competitor's pricing.
ABOUT REMAN ENGINE
3.5-Liter-Engines: The 3.5-liter V6 engines manufactured by Hyundai Motor Company all reside within the Lambda-class and Sigma class of Hyundai engines for use in their production vehicles.
G6AU / G6CU - Also known as the 3.5 D engine, this 3.5-liter V6 Hyundai engine for sale was used in the 1999-2005 Hyundai Equus, 2002-2005 Hyundai Santa Fe, 2001-2005 Kia Sedona, and the 2003-2006 Kia Sorento. It featured aluminum dual overhead cam (DOHC) cylinder heads and a cast-iron block. This engine also used multi-port fuel injection and forged steel connecting rods. This 3.5 Hyundai engine was rated at 194 horsepower.
G6DC - Utilized for production in the 2017-present Hyundai Azera, 2010-2012 and 2018-2020 Hyundai Santa Fe, 2011-2016 and 2020-2021 Kia Cadenza, and the 2011-2020 Kia Sorento, this 3.5-liter Hyundai engine for sale was rated at anywhere from 276-286 horsepower from the factory.
Speak With A Specialist Now
Habla con un especialista ahora
Use The Search Tool
Verify options in the form for a quick search