Find your 5.0 Liter engine
Flat Rate Shipping (Commercial address)
Up to 5 Years Unlimited Mile Warranty
Excellent Customer Support
Pontiac Buick Cadillac Chevrolet Oldsmobile 5.0-gm-chevy-buick-oldsmobile-pontiac-cadillac Engines Variations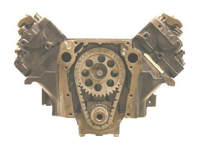 Best Price Guarantee
We will match or beat any
competitor's pricing.
ABOUT REMAN ENGINE
5.0 Liter Engines: The 5.0-liter Chevy small block engine, otherwise known as the 305 Chevy engine or Chevy 305, was the engine that came out of production during a time when there were newly tightened emissions ratings by the government and even a nationwide gas embargo. This engine was first put into production in 1976 and remained in production until the early 2000's through different alterations. These engines were featured in the f-body Chevrolet Camaros, Monte Carlos, along with light Chevrolet trucks and SUV's from 1983 through the early 90's.
LG3 - This was the first designation of the small block 305 Chevy engine for sale and was first seen in production in 1976. It had a 8.5:1 compression ratio and was rated at approximately 130 hp.
LG4 - The LG4 version of the 305 Chevy produced slightly more horsepower at 150-170 hp. This engine was first introduced into production in 1978 and stayed in production until 1987. The main difference in this engine when compared to the LG3 was larger valves.
LU5 - In production from 1982-1984, it was dubbed the original crossfire EFI 5.0-liter small block Chevy engine for the way it's innovative electronic fuel injection system operated, this engine was widely popular but not for the reasons you might think. Due to the electronic fuel injection system being extremely new to not only General Motors, but also to the consumers and mechanics, a lot of people had problems with these engines because they just simply didn't understand how to work on them. Hence, they later got the name of the cease fire engine.
L69 - First 305 Chevy high output engine for sale through General Motors in their Chevrolet production cars. It was introduced in 1983 and continued to be used through 1986 in the Monte Carlo SS, Chevrolet Camaro Z28, and Camaro IROC-Z. It featured a 9.5:1 compression ratio and a horsepower rating of 190 hp with 240fit-lb of torque.
LE9 - General Motors made this engine from 1981 through 1986. This version was used in trucks, vans, and other non-performance applications. It made 165 hp with the same 9.5:11 compression ratio.
LB9 - The LB9 engine was a staple for Chevrolet because it introduced the tuned port injection technology which was a major improvement over the previous crossfire fuel injection system. The engine was in production from 1985 until 1992 and was found used as a Chevrolet Camaro Z28 and IROC-Z engine. Over the years it was in production it was rated anywhere from 190 hp all the way to 230 hp. This engine was also found in the Pontiac Trans Am with the WS6 package.
L03 - Utilized a throttle body fuel injection system and swirl port heads for emissions reasons. This 305 Chevy small block engine is known for its reliability. The L03 was used as Chevy C/K truck engines, GMC C/K truck engines, Chevrolet / GMC C/K van engines, as well as Pontiac Firebird / Chevrolet Camaro F-body engines. This engine was used from 1987 all the way up to 1995.
L30 - This engine was used solely as a Chevrolet Express Van engine, GMC Savana engine, and full-size C/K truck engines for Chevrolet and GMC. It produced 220 hp from the factory and remained in production from 1996-2003. In 2003, the engine was replaced by the 4.8-liter Vortec engine.
LV2 - This was the first version of the Oldsmobile 307 cubic inch (5.0-liter) small block V8 engine. Although this engine was manufactured by the Oldsmobile division of General Motors, it was still used in most of the other divisions of GM models as well. This GM 307 engine was rated anywhere from 140-180 hp. It should be noted that this engine was updated with floating piston wrist pins, roller lifters, and swirl port intake runners in 1985 which added torque and fuel efficiency to the engine. The LV2 designation of the Oldsmobile 307 engine could be found in the 1980-1985 Buick LeSabre, 1980-1985 Buick Riviera, 1986-1987 Buick Regal, 1986-1990 Chevrolet Caprice, 1980-1985 Oldsmobile 88, 1980-1984 Oldsmobile 98, 1980-1985 Oldsmobile Toronado, 1980-1990 Oldsmobile Custom Cruiser, 1980-1988 Oldsmobile Cutlass, 1982-1986 Pontiac Parisienne, and the 1988-1990 Cadillac Brougham.
LG8 - The LG8 version of the Oldsmobile 307 engine was considered the high output variant and it was manufactured from 1983-1987. This engine featured a longer duration camshaft, stiffer valve springs, an upgraded carburetor setup, and a dual exhaust system. In 1986 the engine underwent further upgrades such as new cylinder heads and swirl port intake runners to increase airflow. This high performance 5.0 engine for sale was used in 1983-1984 Olds, 1985-1987 Oldsmobile 4-4-2, as well as the 1985-1988 Cadillac Brougham.
305 Marine engine - The General Motors (GM) Marine engine for boating use has been around for decades and oftentimes goes under the name of the Vortec Marine engine. It is essentially a basic Chevrolet 305 engine that has been modified to be used in boating applications by upgrading the fuel system, modifying the alternator and starter so as to not cause any sparks, and upgrading the intake / exhaust manifolds to be able to handle the large amount of moisture. These engines are typically rated at between 205 and 305 hp.
Speak With A Specialist Now
Habla con un especialista ahora
Use The Search Tool
Verify options in the form for a quick search