Find your 1.6 Liter engine
Flat Rate Shipping (Commercial address)
Up to 5 Years Unlimited Mile Warranty
Excellent Customer Support
Kia Hyundai 1.6-liter-hyundai-kia Engines Variations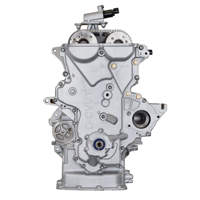 Best Price Guarantee
We will match or beat any
competitor's pricing.
ABOUT REMAN ENGINE
1.6-Liter-Engines: Hyundai 1.6-liter engines are mainly manufactured in-house with the exception of a single 1.6-liter Mazda engine that was used in the early 2000s. The 1.6 Hyundai-manufactured engines are under the Gamma engine class.
B6-DE - Although this engine was manufactured by Mazda, it was used in the 1994-1996 Kia Sephia as well as the 2000-2005 Kia Rio. This engine was fuel injected and had a 16-valve dual overhead camshaft (DOHC) cylinder head.
G4FD - This 1.6-liter Hyundai engine came equipped with direct fuel injection and dual continuous variable valve timing (D-CVVT) which enabled it to produce 138 hp from the factory. It is used in the 2017-present Hyundai Accent, 2009-present Hyundai Tucson.
G4ED - A 16-valve dual overhead cam (DOHC) cylinder head inline 4-cylinder engine that was rated at 110 hp and had 10.0:1 compression. This engine was used as a 2000-2008 Hyundai Coupe engine, a 2000-2006 Hyundai Elantra engine, a 2003-2010 Hyundai Accent engine, and a 2003-2006 Kia Cerato engine.
G4FC - Also known as a Gamma 1.6 MPI engine, it produced 122 hp at 6,000 RPM. This 1.6 Hyundai engine for sale came in the 2011-2017 Hyundai Accent, 2006-2020 Hyundai Elantra, 2011-2018 Hyundai Veloster, 2011-2017 Kia Rio, 2008-2012 Kia Forte, and the 2008-2011 Kia Soul.
G4FG - This engine was first produced in 2010 and was the first 1.6-liter produced by Hyundai Motor Company with continuous variable valve timing (CVVT). This engine produced anywhere from 121-132 horsepower and was used in the 2011-present Hyundai Accent, 2010-present Hyundai Elantra, 2012-2018 Kia Forte, 2017-present Kia Rio, and the 2011-present Kia Soul.
G4FJ - This Hyundai engine was featured in the 2011-2017 Hyundai Accent, 2017-2020 Hyundai Elantra, 2014-2019 Hyundai Sonata, 2015-2020 Hyundai Tucson, 2012-present Hyundai Veloster 2012-present Kia Forte, 2015-2019 Kia Optima, and the 2019-present Kia Soul. It was a turbocharged, direct fuel-injected, dual continuous variable valve timing (D-CVVT) engine that was rated at 175 horsepower from the factory.
Speak With A Specialist Now
Habla con un especialista ahora
Use The Search Tool
Verify options in the form for a quick search