Find your 4.6 Liter engine
Flat Rate Shipping (Commercial address)
Up to 5 Years Unlimited Mile Warranty
Excellent Customer Support
Kia Hyundai 4.6-liter-hyundai-kia Engines Variations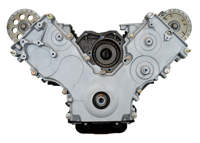 Best Price Guarantee
We will match or beat any
competitor's pricing.
ABOUT REMAN ENGINE
4.6 Liter Engines: All of Hyundai's 4.6-liter V8 engines fall under the Tau engine class and have multi-port fuel injection.
G8BA - Several versions of this engine were produced between 2008-2011. The output varies between 361-395 horsepower and between 324-369 lb-ft of torque, depending on the specific version under discussion. It has an aluminum block and aluminum dual overhead cam (DOHC) cylinder heads. Furthermore, this engine is equipped with continuously variable valve timing (CVVT) and a variable induction system (VIS) to bring its power level up. The 4.6 Hyundai V8 engine for sale came in the 2008-2009 Kia Mohave, the 2008-2012 Hyundai Genesis, and the 2009-2011 Hyundai Equus.
Speak With A Specialist Now
Habla con un especialista ahora
Use The Search Tool
Verify options in the form for a quick search